Rooibos Espresso 250g, loose





Red espresso drinks are taking over the coffee shops!
Red espresso drinks are a great-tasting alternative to caffeinated coffee espresso drinks, and are now one of the most popular drinks in South African coffee shops.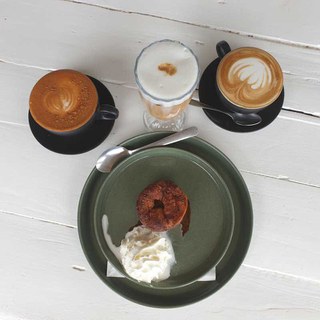 Whether enjoyed as a cappuccino, rooibos latte or latte macchiato, bring the South African joy of life home.
How do I prepare a red espresso drink?
To prepare an espresso drink, approximately 12g of loose rooibos is used, which fits well into the 51mm basket strainer for a double espresso.
Portafilter machines for private use use basket sieve diameters of 51 mm, catering uses basket sieve diameters of 58 mm.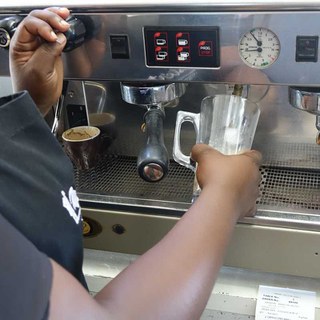 When preparing an espresso, there are some differences in the use of coffee and rooibos that you should pay attention to.
The loose rooibos is not as fine as the ground coffee. My attempts to get the rooibos even finer with a coffee grinder were unsuccessful.
Why is that so important?
The finely chopped rooibos cannot be compacted as well with a tamper in the basket sieve as would be necessary for a good degree of extraction.
Therefore, use the basket strainer for a double espresso, fill it up to the maximum, compress it as much as possible, and let two simple shots out of the portafilter espresso machine one after the other with a pause of 5-10 seconds.
The rooibos swells after the first shot and continues to condense. This means you get an optimal level of extraction from loose rooibos.
You get a particularly nice, strong shot with the REDco Espresso pads. For gastronomic use, we offer a special 58 mm basket strainer and a matching portafilter with a red handle.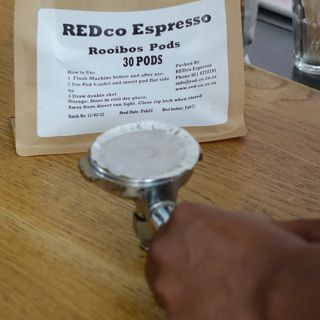 The rooibos used in the REDco Espresso pads is particularly fine and additionally compressed to achieve a maximum degree of extraction.
In addition, REDco Espresso taste tested many different Rooibos from different origins until it found the perfect Rooibos for its Rooibos Espresso Pads.
Rooibos connoisseurs taste where the rooibos they drink comes from, just as wine connoisseurs taste where the wine grapes come from.
The pads are optimized for sieve diameters of 58 mm, but also fit into 51 mm sieves.
I use the pads in my DeLonghi EC 685 with 51 mm sieves without any problems.
What is a Red Cappuccino?
A simple espresso, approximately 30 ml, topped up with steamed milk (in a ratio of 1:4) and served in a 120 to 180 ml cup.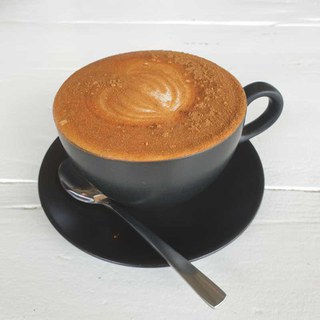 What is a Red Latte?
A double espresso, approximately 60 ml, topped up with steamed milk (in a ratio of 1:2) and served in a 120 to 180 ml cup.
What is a Red Latte Macchiato?
A glass of steamed milk, slowly filled with a double espresso, 60 ml, (at a ratio of 3:1) so that a middle Rooibos Espresso layer can build up between the bottom hot milk layer and the top steamed milk layer.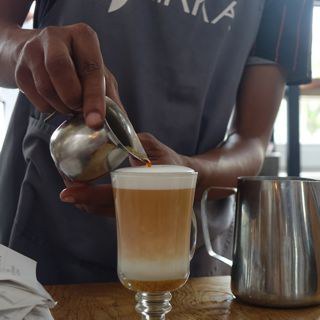 Preparation tip:
Add some maple syrup to the milk before frothing.
What is the difference between a Red Rooibos Latte and Red Rooibos Latte Macchiato?
The difference lies in the order in which the cup or glass is filled.
With the Red Latte, you fill the cup with the Rooibos Espresso with the foamed milk,
With the Red Latte Macchiato, you fill the glass with the frothed milk with the Rooibos espresso.
The Rooibos Latte is generally considered to be creamier.
A latte macchiato is often considered more appealing because of its pretty appearance.
What is a Red Mocha?
A simple espresso layered with chocolate sauce, milk, espresso and cream.
Prepare hot, frothed milk and let it cool. Pour the chocolate sauce into another glass and carefully pour in the hot milk. Slowly add the leftover Rooibos Espresso. Place whipped cream on top and garnish with chocolate shavings.
Ingredients:
30 ml Rooibos Espresso
120 ml hot milk
1 - 2 tablespoons cold chocolate sauce
whipped cream
Chocolate flakes
What is a Red Caramel Macchiato?
A delicious variation of latte macchiato with the addition of caramel syrup.
Pour the caramel syrup down the inside of the glass. First pour the cold milk and then the whipped hot milk with the milk foam into the glass. Prepare the espresso and pour it into the glass. Finally, add a topping of milk foam.
Ingredients:
30 ml Rooibos Espresso
30 ml cold milk
150 ml hot milk
Caramel syrup
Responsible Food Company
Rooibos Company GmbH
Wacholderweg 8
89547 Gerstetten
Germany

Country of origin: Republic of South Africa